Reliabiliy of Data
The SMRE evaluates the overall quality of data of each country data set included into the SMRE. For this purpose a special decision tree to make an intersubjective data evaluation was developed. It assigns one of four possible categories to each case. For each case the data quality is classified either as reliable (1), probably reliable (2), problematic (3) or not available (4).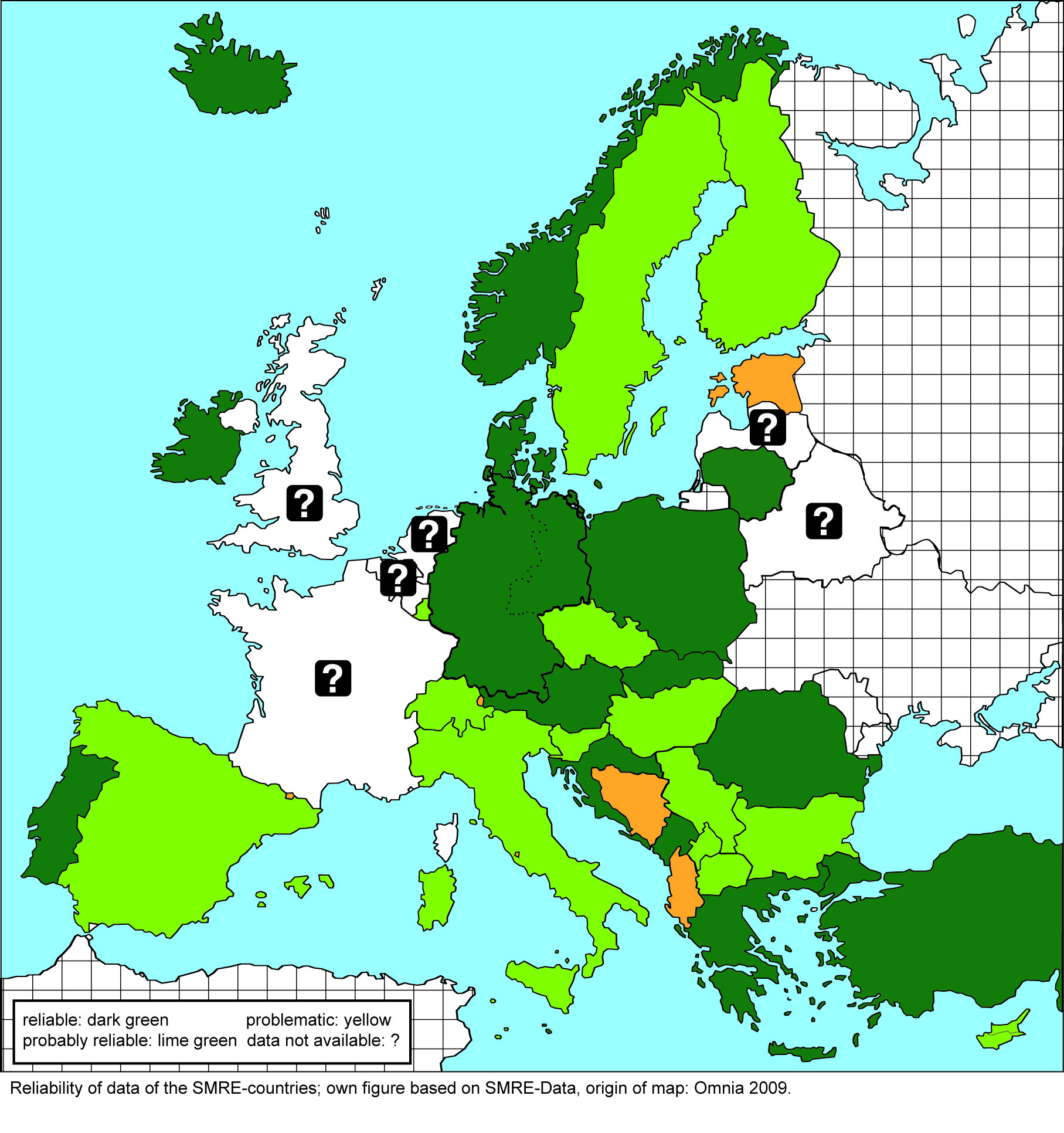 1 – reliable
2 – probably reliable
3 – problematic
4 –not available

Austria (2010)1
Croatia
Denmark
Germany (E) (2010)1
Germany (W) (2010)1
Greece
Ireland (2010)1
Island (2000)1
Lithuania (2010)1
Malta
Montenegro (2000)1
Norway (2010)1
Poland (2000)1
Portugal
Romania (2010)1
Slovakia (2010)1
Turkey

Bulgaria
Cyprus
Czech Republic (2000)1
Finland
Hungary (2000)1
Italy
Kosovo (2010)1
Luxembourg
Macedonia (2000)1
Serbia (2010)1
Slovenia (2010)1
Spain (2000)1
Sweden
Switzerland (2000)1

Albania (2000)1
Andorra2
Bosnia-Herzegovina (2000)1
Estonia (2000)1
Liechentstein2
Vatican City2

Belarus
Belgium
France
Germany as a whole3
Great Britain
Latvia
the Netherlands
Remarks:
Years shown in the parentheses indicate that the level of reliability has been achieved only in the respective reporting period and that the level of reliabilty is consequently lower In the other period.
Vatican City, Andorra and Liechtenstein are problematic because of too few original sources. This lack of data is mainly due to the small size of the population of these countries which are thus left out by many international surveys.
For Germany as a whole no data are available yet. The last census taken in 2011 did not change this. However, due to the presence of enough original sources specific to the Eastern and Western parts of Germany, the reliability of data for Germany seperated into these two regions are reliable for both cases.